I'm not yet a homeowner, but it is a goal in my life. I am one of those individuals that would love to buy a preexisting, older house instead of a new construction one in a modern subdivision. I prefer older homes because they have more character.
Here's an example of something idealistic...
Or this one...
Even this one (which is actually in the same town as me)...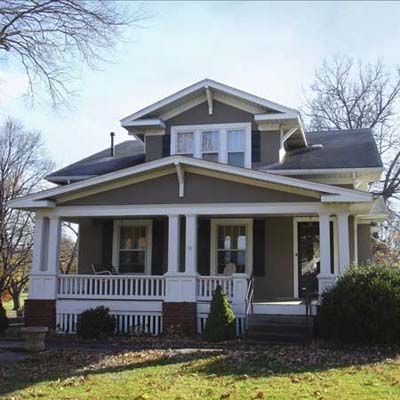 See... something like a cottage or Veranda, even something that could be registered in some town's historical society. I prefer to have something that I can restore to it's natural beauty or to make it more beautiful. Now as far as little details of things I would do to the house, here are several of my ideas for my dream home.
-My dining room has to be big enough to hold 8 (or more) people comfortably, for the occasional dinner party or hosting holidays with the family. I would like crimson red walls and cherry oak hardwood floors. I would have the table decorated to fit the season or holiday. The holiday I would be most excited to showcase would be Halloween, with a floral arrangement of black roses and spiderwebs and dinnerware from Pottery Barn (they have some really cool Halloween stuff). The other holidays that I would showcase in my dining room would be Christmas, Thanksgiving, Easter, and St. Patricks Day.
-The living room will have that feeling of instant coziness. There will be a couch and love seat set that will be so comfortable that you could easily fall asleep in mere minutes. There will always be a couple throws available to use, and depending on the season the throws will be different colors (same with a random throw pillow or two). The main focus of the room will be the fireplace/mantle, which will be either made with wood or stone (no red brick fireplace here... i think they are slightly tacky, unless for nostalgic Christmas pics). I will also have a stereo system in the living room for the occasional times where I just want to play music and dance around (either alone or with that special someone).
-For the movie geek in me, I **NEED** to have the ultimate movie room. The only furniture in said room are over sized recliners and a couple end tables with lamps on them. One wall will have the television (or TV screen to accompany the projector) in the center, with shelves on either side for movies and below the television would be all the necessary TV equipment (like cable boxes, surround sound system and DVD player). The walls perpendicular to the screen would have 3-4 framed movie posters. The back wall, which is where the door to the movie room would be, will have more shelves for movies and random movie prop type knick knacks. In one of the corners of the room would be a director's chair with the word "movie geek" written on it.
-Reading too many Nicholas Sparks books have made me fall in love with the idea of a wraparound porch. I'd like one for the front yard of the house. I also need to have a couple Oak trees in the front yard, so when Fall comes around I will have beautiful orange and red leaves all over the yard.
-The kitchen will be very simple... naturally stained cabinets, an island, and a kitchen table for everyday use. All the major appliances will either be black or stainless steel (white is a big no-no). I've always liked the idea of a breakfast nook. So if there is one in the house, or space to create one, I would be a happy camper. Sometimes you just need that more intimate feel when having breakfast or just sitting with coffee, tea, or hot chocolate. :-)
-The basement will be fully furnished and play as an area to entertain friends and family. The walls will be painted a darker color, like hunter green, midnight blue or a light grey. There will be a pool table and a few random bar stools to sit around. If I found one (or two) cheap enough, I would have arcade games set up and rigged to play whenever I wanted (no money deposits here!) I would put in a bar with a mini fridge and a wine cooler. The entire basement will have tile floors, since I am one that would hate to replace moldy carpet after a flood (if that would ever happen). Part of the basement will have a separate room for storage, with wall to wall shelves to hold items like Christmas decor or other items deemed appropriate for storage. All organized and labeled, of course :-)
-The backyard will be both entertaining and relaxing. On the deck, there will be an area for grilling and an area to just sit and relax. The sitting area will have comfortable seating and will be underneath a trellis (which will have vines growing all over it). In the backyard, I would want something entertaining to do, like a self made miniature golf course or a life sized chess board (I have How-To guides for mini golf, plus a few other projects). I wouldn't want an overly huge yard, since I don't want to have to mow it, lol.
Man, just to write about this REALLY makes me wish I was in the process of buying my first home. *Sigh* I will get there someday. Hopefully, I will have a significant other or spouse to share these dreams with me by that time. If not, then my son will just have to be my home improvement partner in crime!!!