Yeah... I'm bad.
I don't have an original photo of Lee's Summit, MO. You would think I would have SOMETHING after moving here back in 1996. I know this blog was coming and I had time to take a a few pics, but procrastination (then a suddenly busy two weeks) defeated me. So, I went the Google route...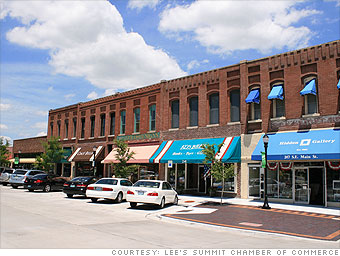 This is a picture of downtown Lee's Summit. The building with the yellow awning on the far left used to be a restaurant called Strother's. It was one of the first places that my family and I made as a hangout spot. It had amazing food (especially the potato skins) and we always ran into people that we knew. Fun fact: Strother was one of the names considered for the town.
This is the train station. I have actually boarded onto an Amtrak at this station (and come home) a couple times. The sitting area with the fountain is a great place to sit (and one of my friends and I took random photos of each other in this area in high school). I love the small town feel to this part of downtown. At Christmastime, downtown Lees Summit makes a big event when lighting the area (much like how the Country Club Plaza does theirs). I always appreciate the beauty of downtown whenever I drive (or walk) through the area.
I found a couple historical pics of Lee's Summit. This mansion is the former home of Todd George, who was one of the former mayors of Lee's Summit. I used to live down the street from this house (located just east of downtown) in another historical home. A former landlord of mine used to own this house, which had been converted into several apartments. Today, it is registered as part of the city's historical society and is home to a local business.
Now, to my part of town... Longview!
Robert Long had built this mansion for his family, along with a barn for show horses, and acres of farm land (for crops and animals). Many wonderful events are held in the mansion, including weddings, murder mysteries, and several events for the neighborhoods surrounding the mansion. The former show barn has been converted into an elementary school, which you can tour to see some of the historical restorations. This, to me, is the most beautiful area of Lee's Summit and I am happy to live in this part of town, especially because I am a lover of history and beautiful architecture.
So I have shared some snippets about the town that in which I am a resident. One day I will decide to take my camera, drive around town, and make an album of the town that I am proud to call my home. :-)