Ah, my parents... the reason why I exist (yes, I am technically giving them a shout out for having sex). I am happy to be their daughter and would like to share with you some things about their past, how they met, and how they are doing today (not too much, but just enough to get a backstory).
My Dad was an only child. He was born in Brooklyn, NY. When he was in grade school, his family lived in Warrensburg so my Grandma could attend classes at UCM (which was called Central Missouri State College at that time). They moved to Independence where my Dad graduated high school before attending Central Missouri State College and the University of Missouri, where he received his education degree and competed in swimming and diving.
My Mom was the fourth out of five kids. She was born and raised in the Ballwin/Manchester/Ellisville area of the St. Louis metropolitan area. When she was five, her sister (my aunt Brenda) was killed in a car accident, and it greatly affected the entire family. Several years later, my Grandpa had a job transfer, so they moved to Grandview, MO (only my mom and my aunt went with my grandparents since both my uncles were already establishing their own lives in St. Louis).
My parents met when my Mom decided to join her friend in competing on a trampoline and tumbling program. My Dad was the coach. After a few years having the coach/athlete relationship, it transitioned into something more. Although they were in love, they had to deal with the fact that they have a 16 year age difference. It was hard for my Mom's parents to be okay with the fact that my Dad was so much older than her. I don't know all the details regarding this, but it ended on a happy note. My parents were married on August 16, 1980.
One of their favorite social activities my parents did in the early 80's was go to the Bijou Theater in Westport every Friday and Saturday night to see The Rocky Horror Picture Show. They went twice a night with some of their mutual friends and have seen it with a live audience approximately 300 times (for me, it's going to be difficult to break their record since Kansas City only has a monthly showing... oh well... they better be proud that their passion for the cult film has rubbed off on me LOL).
When I was born, I was immediately introduced to a lot of their activities. They took me to movies (like Return of the Jedi and Indiana Jones and the Temple of Doom... even if I was asleep most of the time). I went with them to trampoline meets and was passed around between the other coaches and athletes. I also knew how to do the Time Warp when I was still in diapers.
After my sister was born, we were a complete family. We traveled together to meets (and my sister and I joined the team when we were old enough to compete). We went on family vacations to California and Las Vegas. We established our own traditions for family activities, which included dining out, miniature golf, going to the movies, playing board games, shopping, and spending time with both sides of the family. My sister and I are very well versed in pop culture and music because of their tastes in music, movies, and celebrity trivia.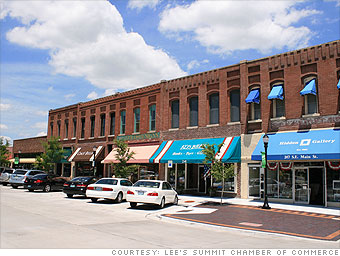 After moving to Lee's Summit, my parents got out of the trampoline world. All of their athletes were moving on with their lives. But, after a few years, my Mom wanted to do it again so she started coaching a team in Lees Summit. Dad eventually came back to it as well (and I even started working at the gymnastics facility).
My Dad retired from teaching a few years ago. He now coaches the swimming and diving teams for Blue Springs High School and has led the girls team to state a couple times (and once they won state). He's also on the board of a Credit Union. My Mom works at an orthopaedic practice. They both still coach the trampoline and tumbling team, with a new generation of athletes that have done very well in competitions.
My parents celebrated their 30th wedding anniversary last year. I wish them to have many more years of happiness.